THE BEST POOL PARTY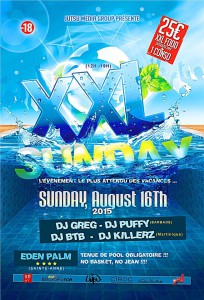 Les XXL SUNDAY reviennent et vous préparent du lourd! Sous aucun prétexte vous ne pouvez manquer ça. Elle est indétrônable et inimitable!
☀️ La XXL SUNDAY ☀️
|| The Best Pool Party ||
Dimanche 16 Aout à L'hôtel l'Eden Palm ⭐️⭐️⭐️⭐️
(Sainte Anne)
Avec les meilleurs Djs du moment:
-Dj Greg
-Dj Puffy
-Dj Btb
-Dj Killerz
Start to 12H!!!
Jusqu'à 18 H nos services:
☑️COCKTAILS (un panel de choix d'exception)
☑️XXL FOOD jusqu'a 14h00
☑️STAND CHICHA
ENTRÉE : 30€ sur place ( Conso )
Best Pool Party in The Caribbean! Are U ready?!
! ATTENTION !
| DRESS CODE OBLIGATOIRE |
Tenue de plage, maillot, short de bain, sandales.
NO JEAN NO BASKET !
La Direction se réserve le droit d'entrée. Pour toutes Réservations
Appelez le ‪+590 690 628791
 Liste des points de ventes :
– Sebastiano frebault
-Sebastiano jarry
– Sebastiano milenis
– Sebastiano basse terre
– micro force jarry